Welcome to the AS Cashiers & Ticket Office!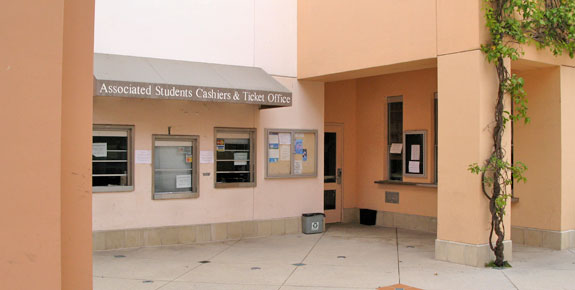 Have you ever wondered about those lines that snake around the AS/MCC building? Well, it's probably folks lining up to get tickets to one of the ever-popular AS Program Board events in the Hub or Events Center.
The AS Cashiers & Ticket Office offers ticketing services for many campus events, from Athletics to Theater and Dance, Music, and much more! It also offers course readers and notes, discounted passes for the local movie theater, bus passes for the Santa Barbara Metropolitan District, and discounted theme park tickets! A.S. Emergency loans are also available to currently enrolled undergraduate students in $200, $400, and $600 denominations.
In addition, the office offers recycled printer toner, 15% Amtrak discounts, and AS tech rentals, including iClickers, laptop chargers, and graphing and scientific calculators.
The AS Cashiers & Ticket Office continually strives to provide services that student want and need!