INTRODUCTION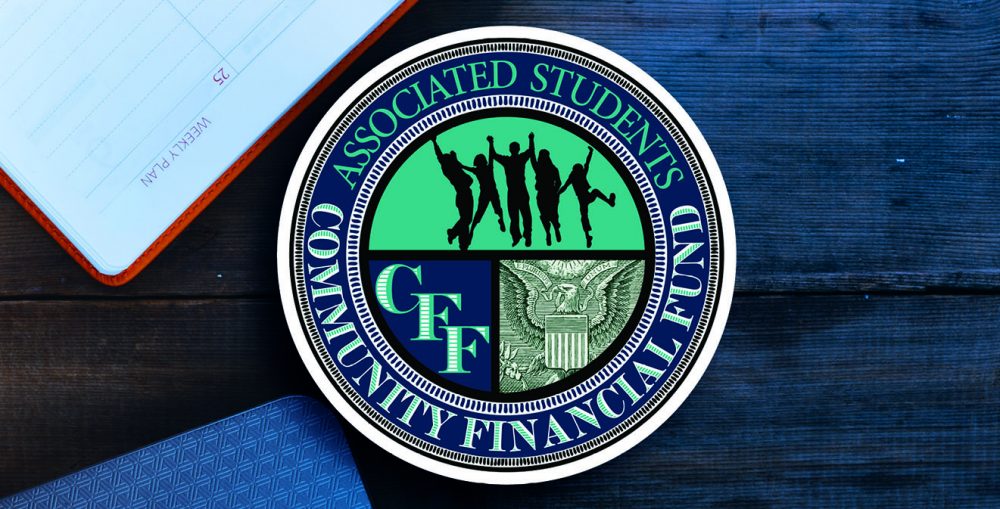 The Community Financial Fund was established in the 2010-2011 academic year, when students passed a measure allocating a new student fee of $2.10 per student per quarter to initiate the program. In the fall of 2011, the Fund began its work by supplementing the AS Emergency Loans Program. In its second operating year, the CFF inaugurated a well-liked grant program, which provides additional financial assistance to students. The grant program also established the financial literacy workshop program, which has been instrumental in equipping students with important financial information. The Fund works closely with the Financial Aid Department, and the AS Food Bank in order to reach-out to students living with food insecurity as a result of their financial instability.
WELCOME BACK!
At the beginning the year the fund welcomed students back to campus with important things to do:
Welcome back Gauchos!! We hope you had a great summer full of epic adventures and good times. We know you're really excited about all the good stuff CFF has planned this year. We will be updating our website regularly so stay tuned!
Below are some important dates to keep in mind. If you have any questions, please contact Andrea Wade Catena, Community Financial Fund Coordiantor, at andreaw@as.ucsb.edu or 805-893-3659.
1. Workshops will be held October 3rd through October 20th.
2. The AS Ticket office will begin accepting CFF grant applications October 17th at 10am.
3. All applications turned in on October 19th between 10am and 12pm are considered equal. It will not be "first come, first serve" as in previous years. This 2 hour period will allow those who have class to have equal access to the grant. There is no need to line up ahead of time since all applications will be accepted. Applications after 12pm will then be considered in the order in which they are submitted.
More information will be posted soon!
FINANCIAL LITERACY WORKSHOPS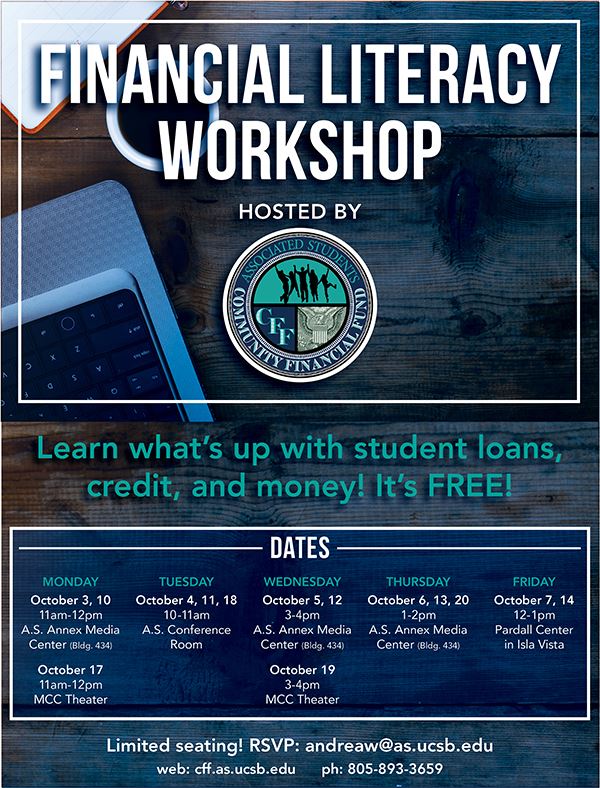 Throughout the year, CFF offered financial literacy workshops to help students navigate their college experience and beyond.
To start the year they challenged students on their Facebook site:
Do you know the difference between a credit card and a debit card? Do you know what your credit score is? If you answered no to either of those questions, make sure you stop by one of our workshops this quarter! You can totally get this financial stuff down. We are here to help so come see us!
And, of course, invited students to attend their workshops.
CFF GRANTS
Many students struggle with financial insecurity at UCSB. In response, students, initiated the Community Financial Fund Grant program. They have also partnered with the A.S. Food Bank to make sure students eat healthy and are aware of federal and other programs like the federally funded Supplemental Nutrition Assistance Program (SNAP) formerly known as Food Stamps. Yes, students qualify for this assistance!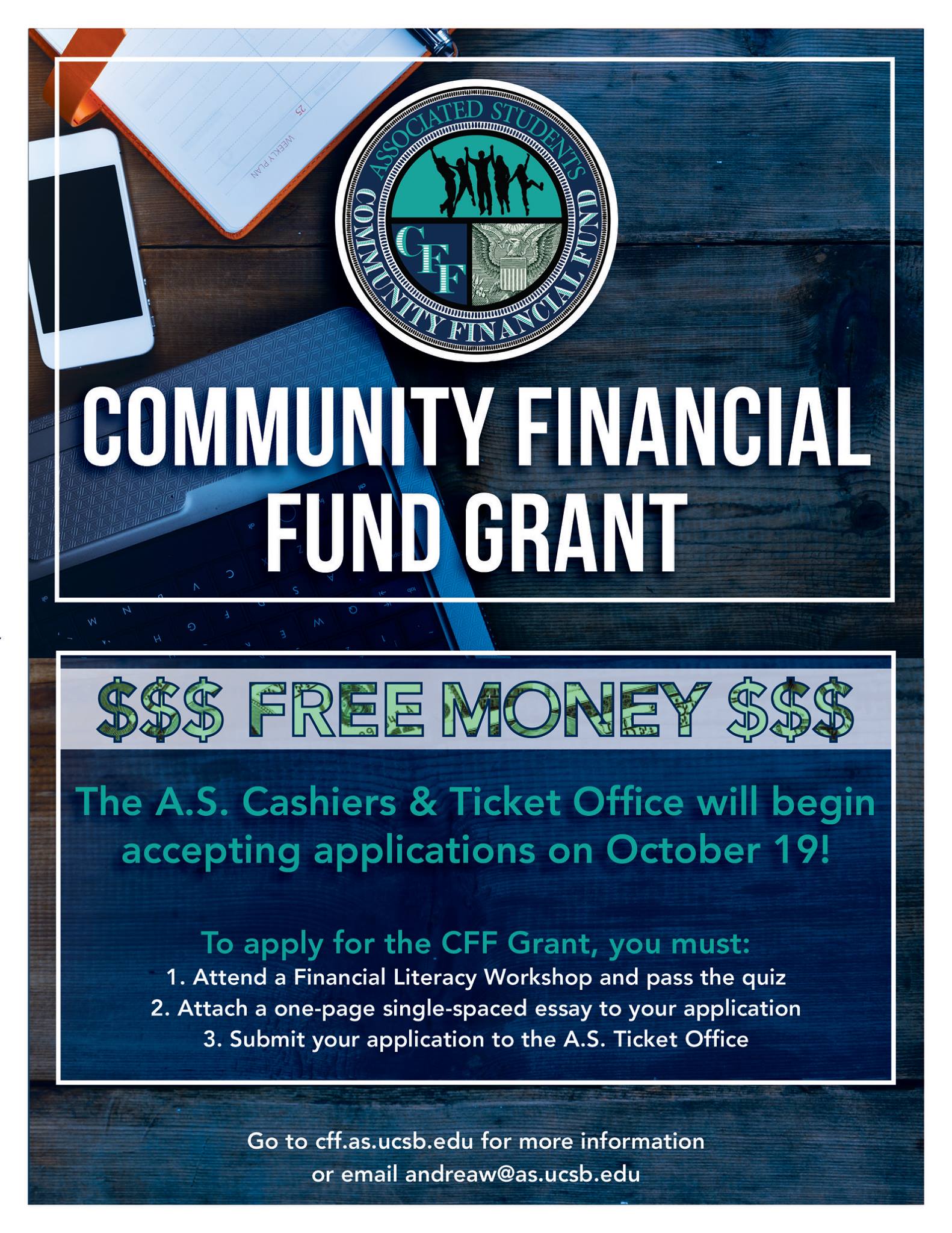 CFF BLOG
To start the year, CFF initiated a blog. Although it remained at a single posting, that posting sums up what financial literacy means and includes some thought provoking statistics:
What's Financial Literacy?
Posted on September 20, 2016
Financial literacy is the ability to understand how money and finances work. From personal budgeting to investing, to paying for college, and to tax planning, it's important to understand your finances to make sound long-term and short-term decisions. Financial literacy involves being proficient in financial concepts such as planning budgets, compound interest, the time value of money, and managing debt. Unfortunately, unless you're an Economics and Accounting major, you'll almost never encounter these concepts in your classes, but don't let this be the reason for justifying financial illiteracy! The lack of financial literacy can lead to poor financial decisions which can negatively impact your life. You can help yourself by tracking your spending, and learning techniques to pay off debt, and plan for retirement.
Community Financial Fund (CFF) is a resource available to Gauchos funded by Gauchos to help you become financially successful!
The following are some interesting facts that may surprise you*:
65% of Adults don't have a budget
The total U.S. consumer debt is $2.40 trillion
Nearly 1/3 of adults don't know their credit score.
The Average APR on a new credit card is 14.73 percent (that's pretty high!).
*Source: http://www.financialliteracymonth.com/About/Statistics.aspx