INTRODUCTION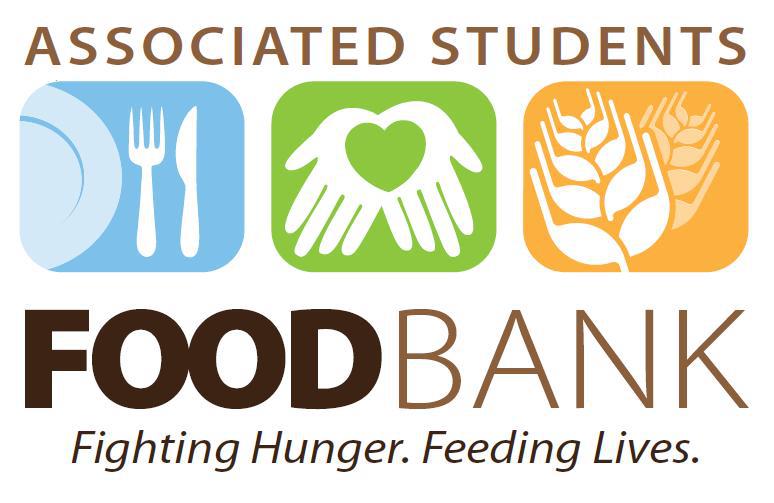 The Associated Students Food Bank is a student-run service that is available to all UCSB students, both graduate and undergraduate. The service aims to eradicate hunger from our campus community by providing basic food supplies, toiletries, and information about additional resources to students in need.
In order to promote the comfort and moral support of students, the AS Food Bank is accessible during regular school hours and respects the confidentiality of its users.
FOOD BANK GRAND REOPENING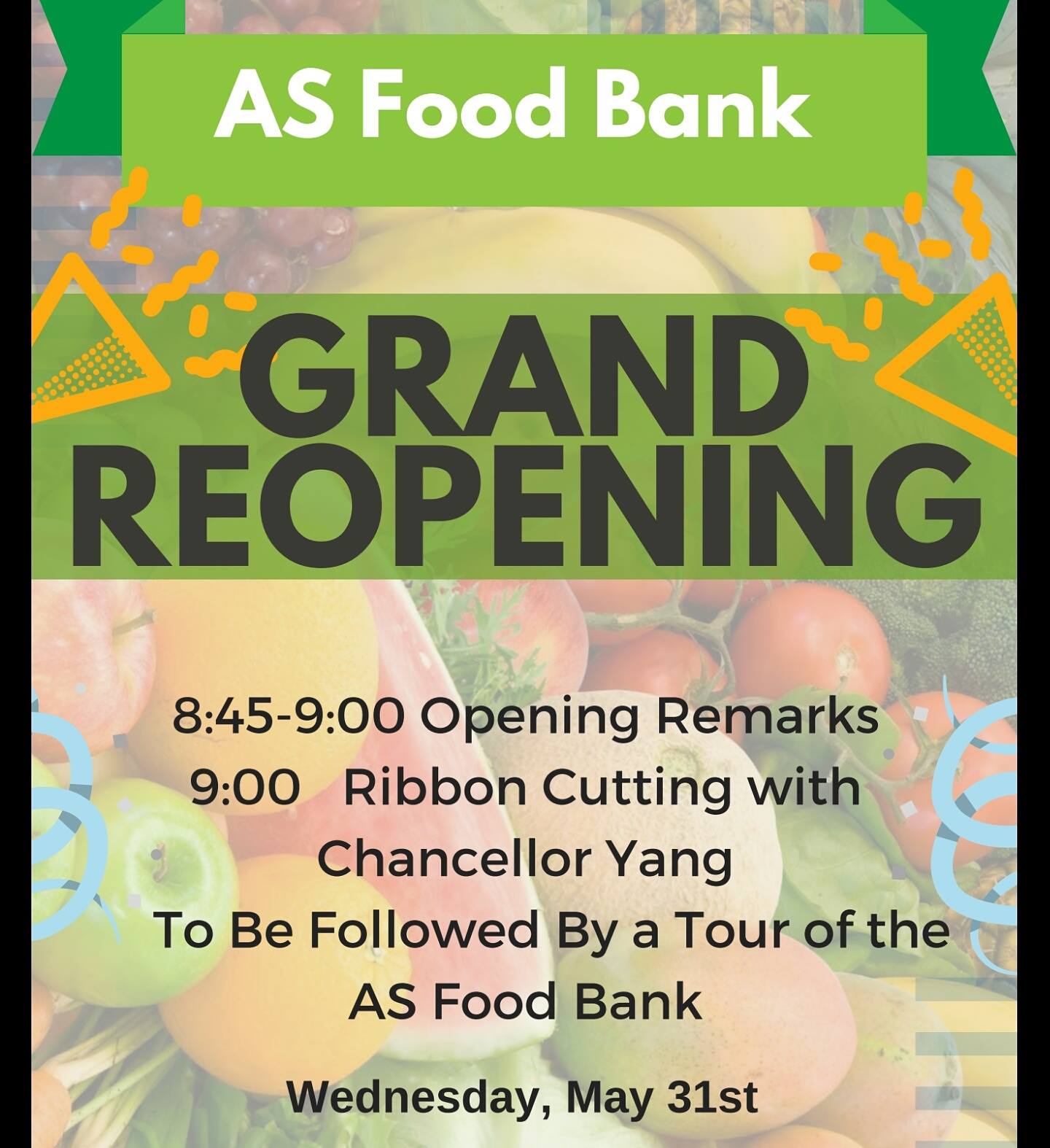 FRESH PRODUCE
Starting during summer quarter, the Food Bank provided a variety of fresh produce throughout the year.

MEAL SWIPES
Swipes out Hunger was founded and established in UC Los Angeles to help fight food insecurity in their local communities for students and the houseless population in 2009. Since 2012, UC Santa Barbara has joined the fight and established the program within our campus via Shannon Mirshorki and Alexandra Guthy.Through Swipes UCSB, students can donate unused meal swipes to those in need. If you would like to donate and find out more, please click here.
UCSB has a total of a 1000 swipes cap. 75% of donations are converted into meal vouchers for students in need that are distributed via the AS Food Bank. The other 25% of swipes is converted into monetary value and are used to purchase food and various items for Casa Esperanza Homeless Center in downtown Santa Barbara.
SEPTEMBER WAS HUNGER ACTION MONTH
AS part of the month's activities Food Bank hosted and open house to let  know about their service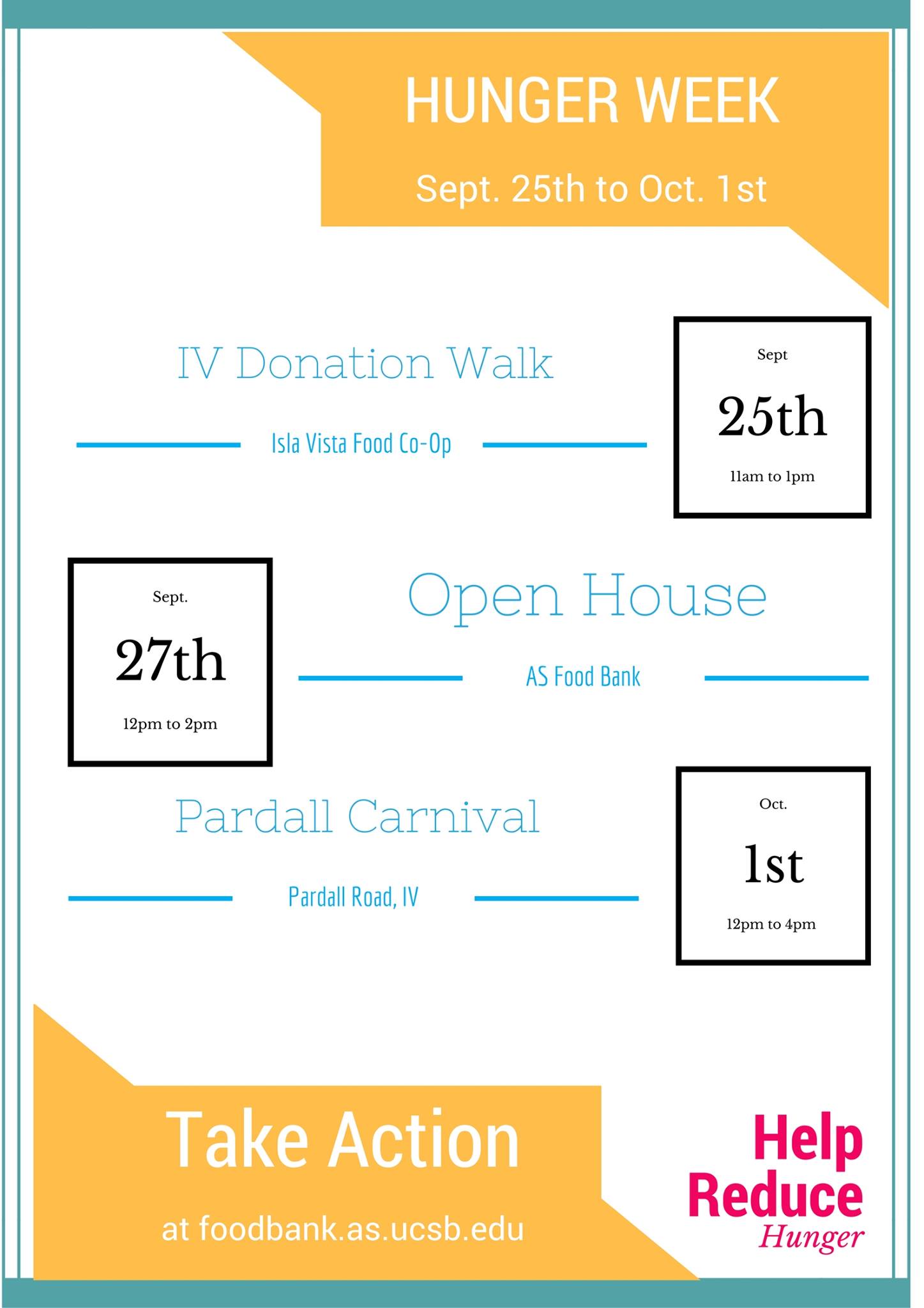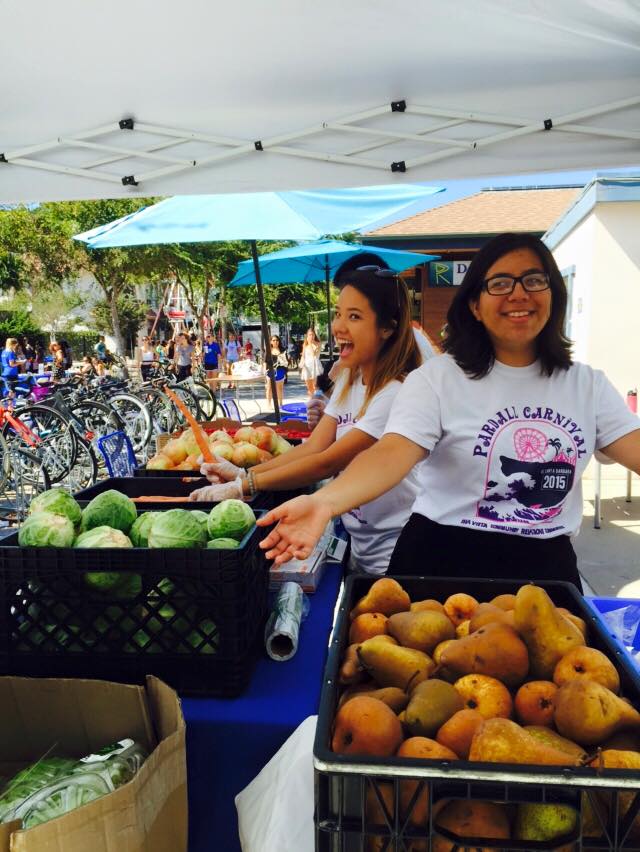 KICK OFF STROLL
To start off the year Food Bank hosted a kick off stroll in IV to collect food donations and share about the resources they have available to IV residents.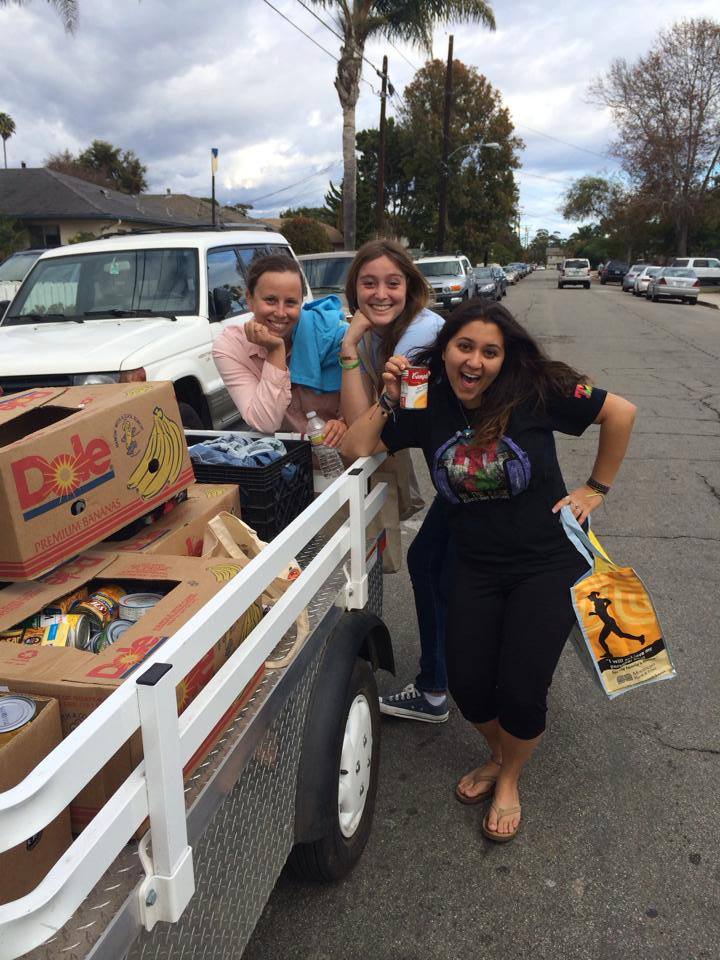 An example is a beautiful and healthy food box, a monthly distribution to Santa Ynez Apartment subscribers.
MOBILE DISTRIBUTION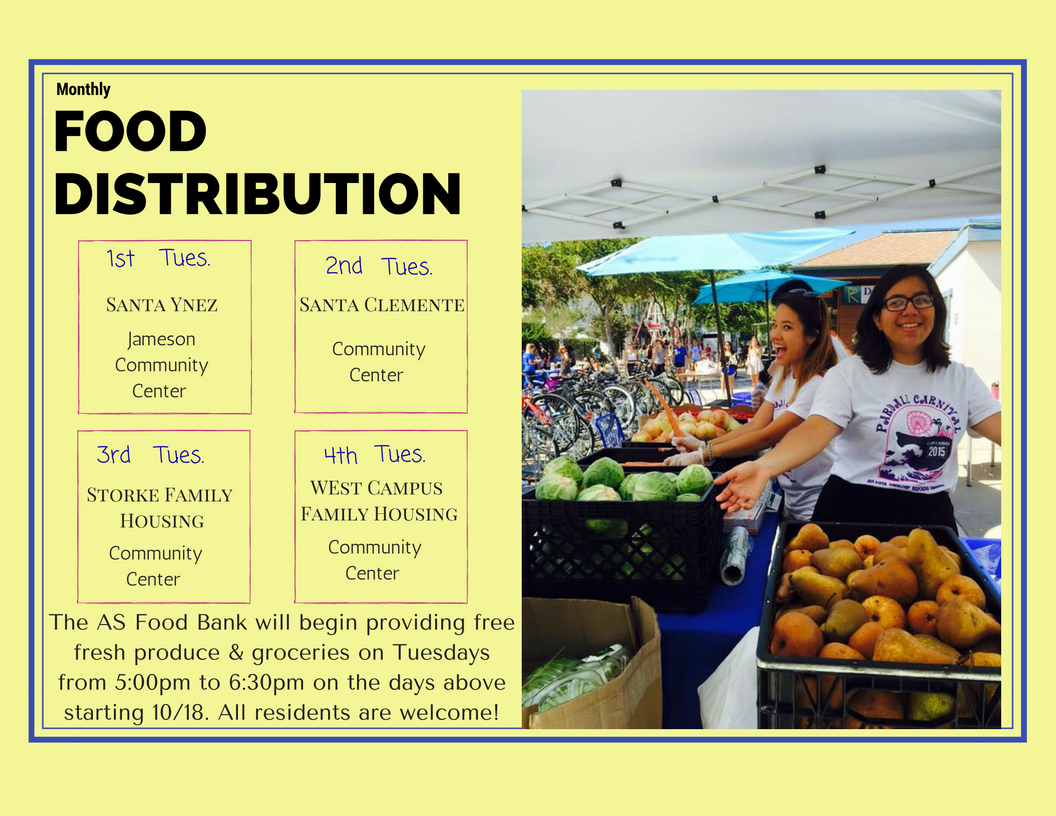 Food Bank also went on the road to distribute food in IV at Storke and West Campus Family Student Housing, San Clemente Villages, Westgate Apartments and San Ynez Jameson Community Center.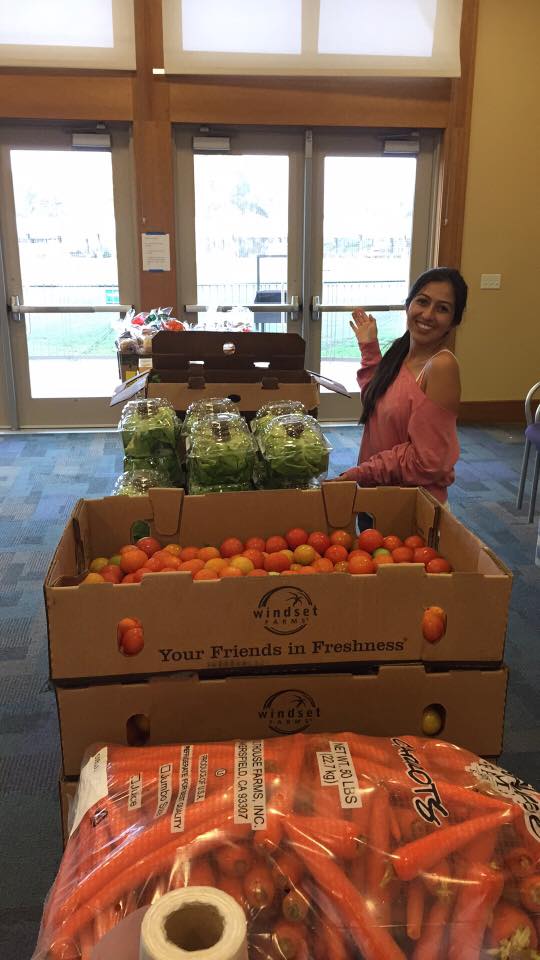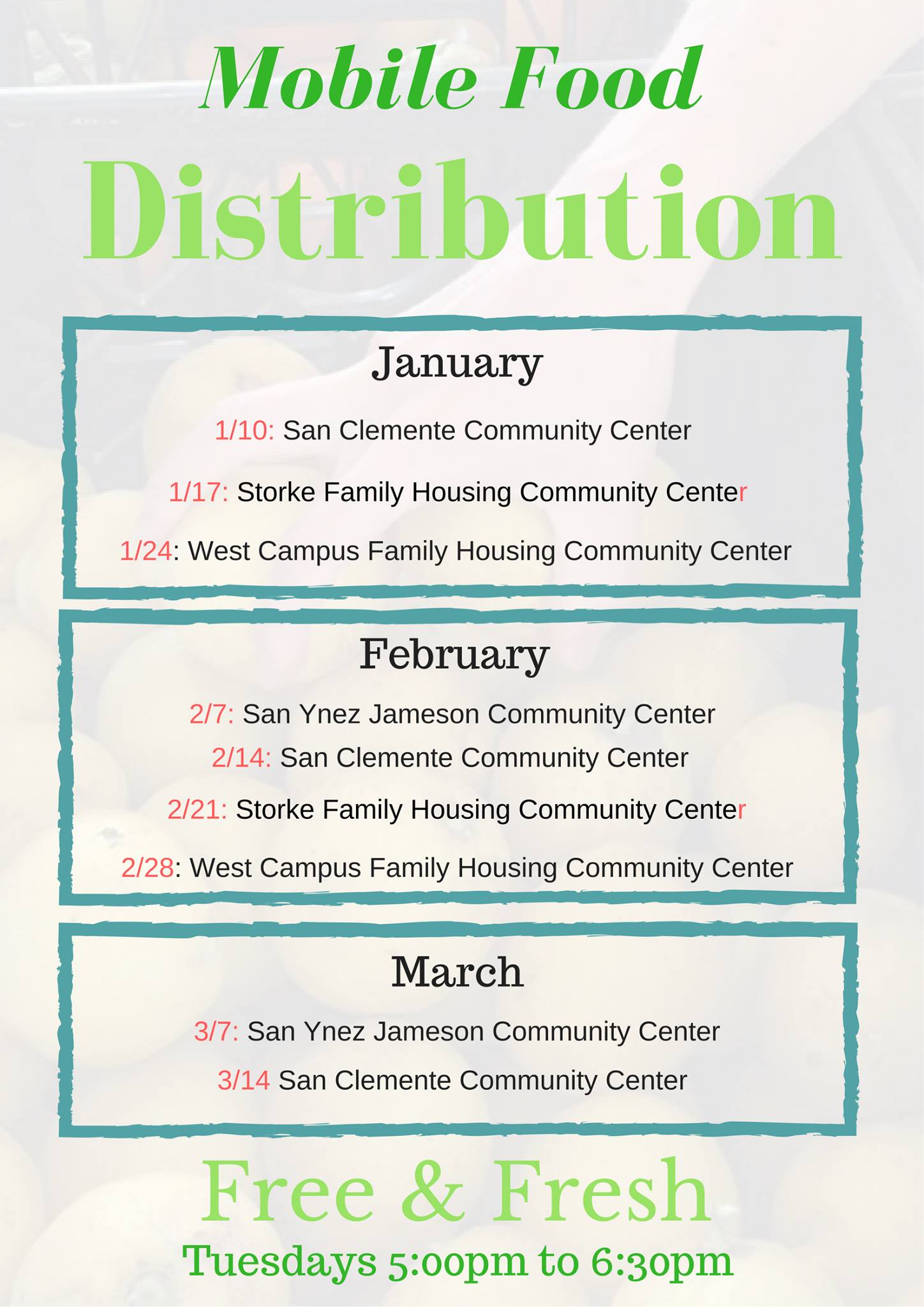 THANKSGIVING LUNCHEON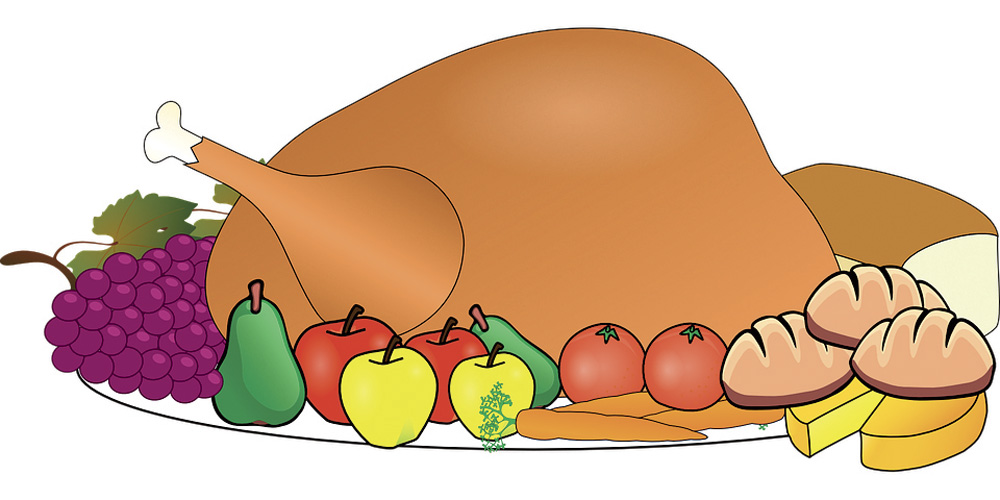 Students unable to spend turkey day with family or friends were well taken care of by the folks at Food Bank. This included many foreign students. Although they may not celebrate Thanksgiving in their home countries the spirit of the holiday was pervasive and infectious as Food Bank served up a full turkey dinner with all the fixings. The event was also supported by Housing & Residential Services, the Office of International Students, and Counseling & Psychological Services.
END OF FALL QUARTER BBQ
The good people at the Food Bank celebrated the end of fall quarter with a BBQ at the Student Resource Building BBQ station with a lot of smiling faces!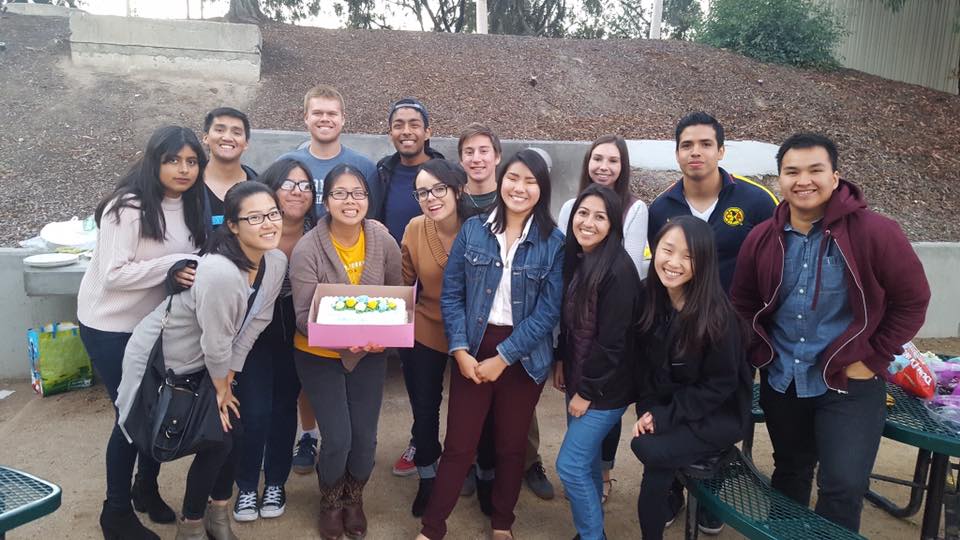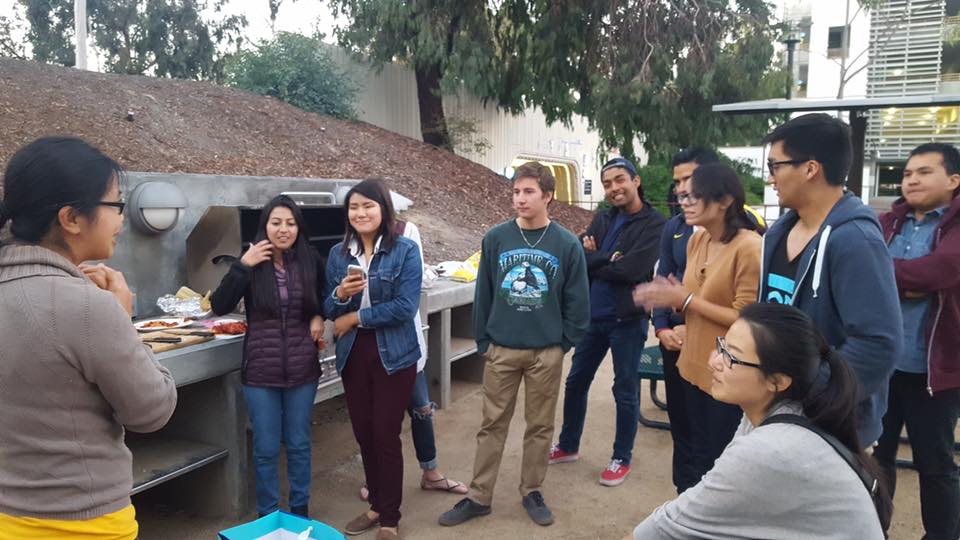 HAPPY NEW YEAR
To start the new year, Food Bank announced its upcoming programs!
Happy New Year!
Are you ready for a healthier you in the new year? We got you covered!
1) Our pantry reopens regular hours starting 1/9.
2) Mobile Food Distributions continues 1/10 at San Clemente.
3) Food, Nutrition, and Basic Skills is launching their new calendar with awesome field trips and cooking workshops to sharpen those skills!
4) More CalFresh Hours in our pantry and at the Isla Vista Food Co-Op.
5) Meal tickets applications are open for Winter Quarter!
Check out foodbank.as.ucsb.edu for more awesome details!
WINTER DONATION WALK WITH FOOD BANK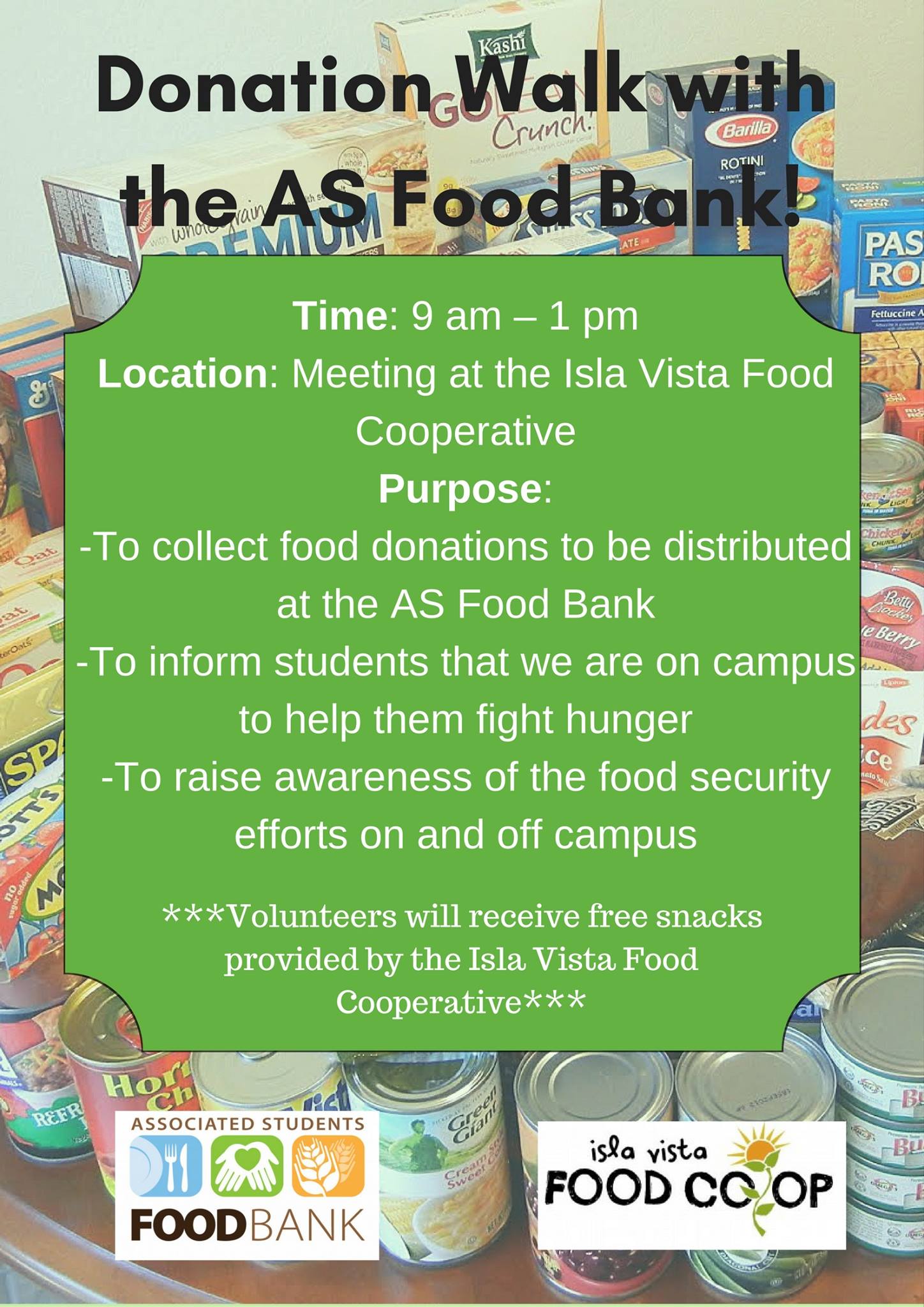 Food Bank relies on donations to make food available to students. This in turn relies on students to get the word out about the reality of food insecurity and to enlist donors and other supporters for their work to continue. In short, students learn about the reality of the non-profit sector as a whole and what it takes to provide needed services in their communities.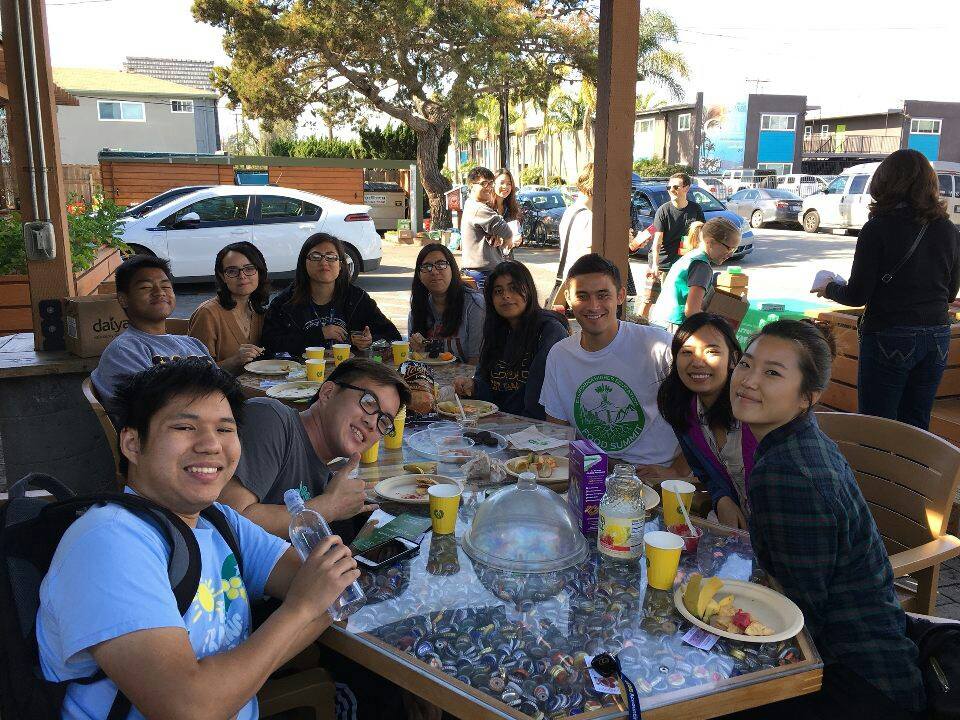 UC FIRST SUPPORTS FOODBANK WITH SENIOR CLASS GIFT

UC First is a student group whose mission is to foster a campus-wide culture of philanthropy. Their goal is to raise awareness with UCSB students about the importance of private giving, which makes their outstanding educational experience possible. They strive to inspire students to get involved with philanthropy now because collectively, we can make a difference.
They invited students to their "Leave a Pizza Your Heart" 2017 Senior Class Gift fundraiser, benefitting the Associated Students Food Bank! This was followed during spring quarter by a 2017 Senior Class breakfast.
The Senior Class Gift is the first opportunity for the graduating class to leave a legacy at UCSB following graduation. Each year, the Senior Class Gift benefits a different cause that is voted on by the seniors during fall quarter. This year, the Class of 2017 chose to give back to the AS Food Bank.
With this ringing endorsement, it's evident that students fully  appreciate the crucial role Food Bank plays in our campus community.

FOOD BANK AT THE NEW CAMPUS TRANSFER STUDENT CENTER
Food Bank reached out to transfer and other non-traditional student with a presentation about food resources on campus and federally backed resources like CalFresh the the Transfer Student Center in Davidson Library. It's crucial for transfer students to get this kind of information early, because they aren't on campus very long before they get their degrees.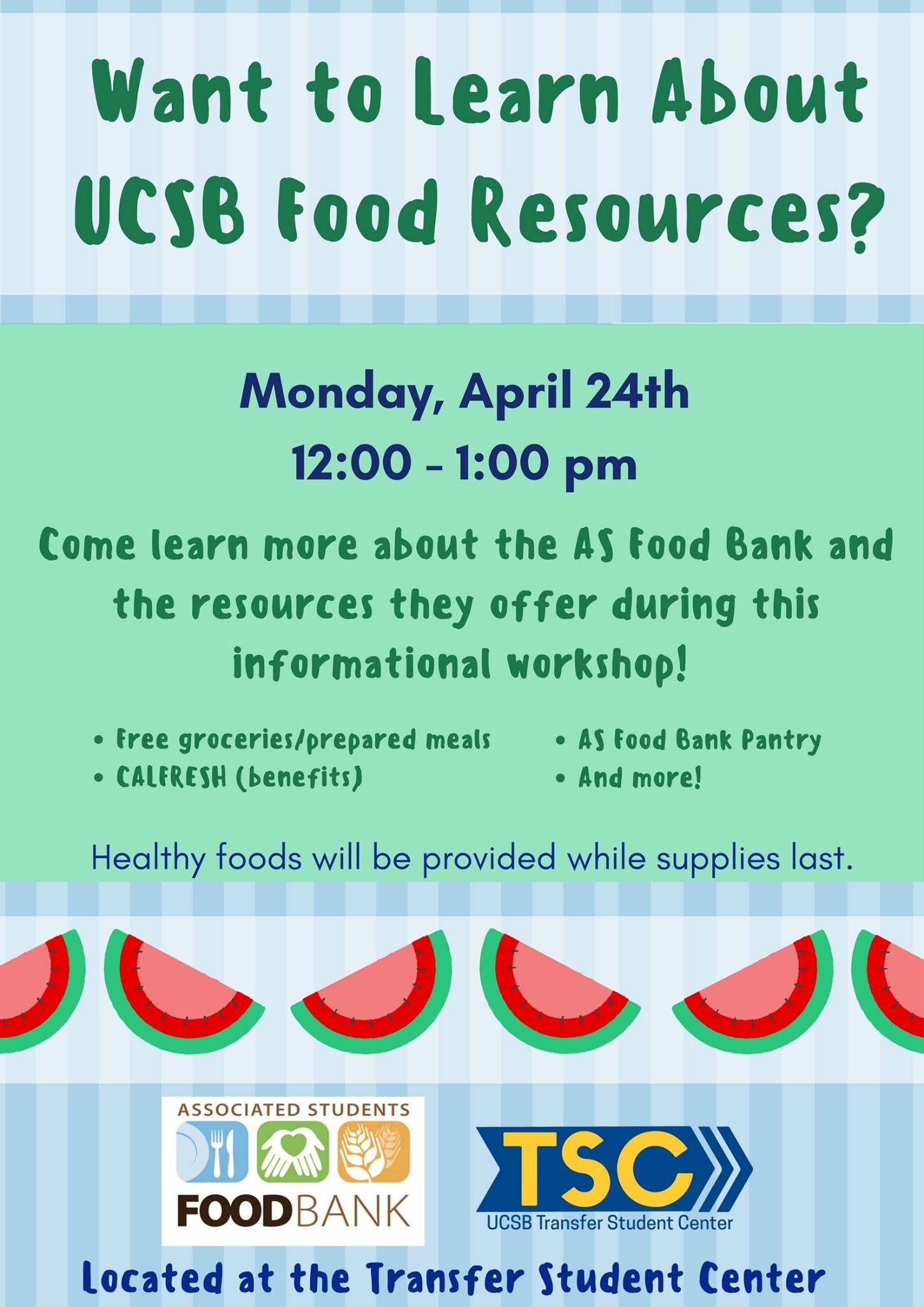 A NEW SPACE FOR FOOD BANK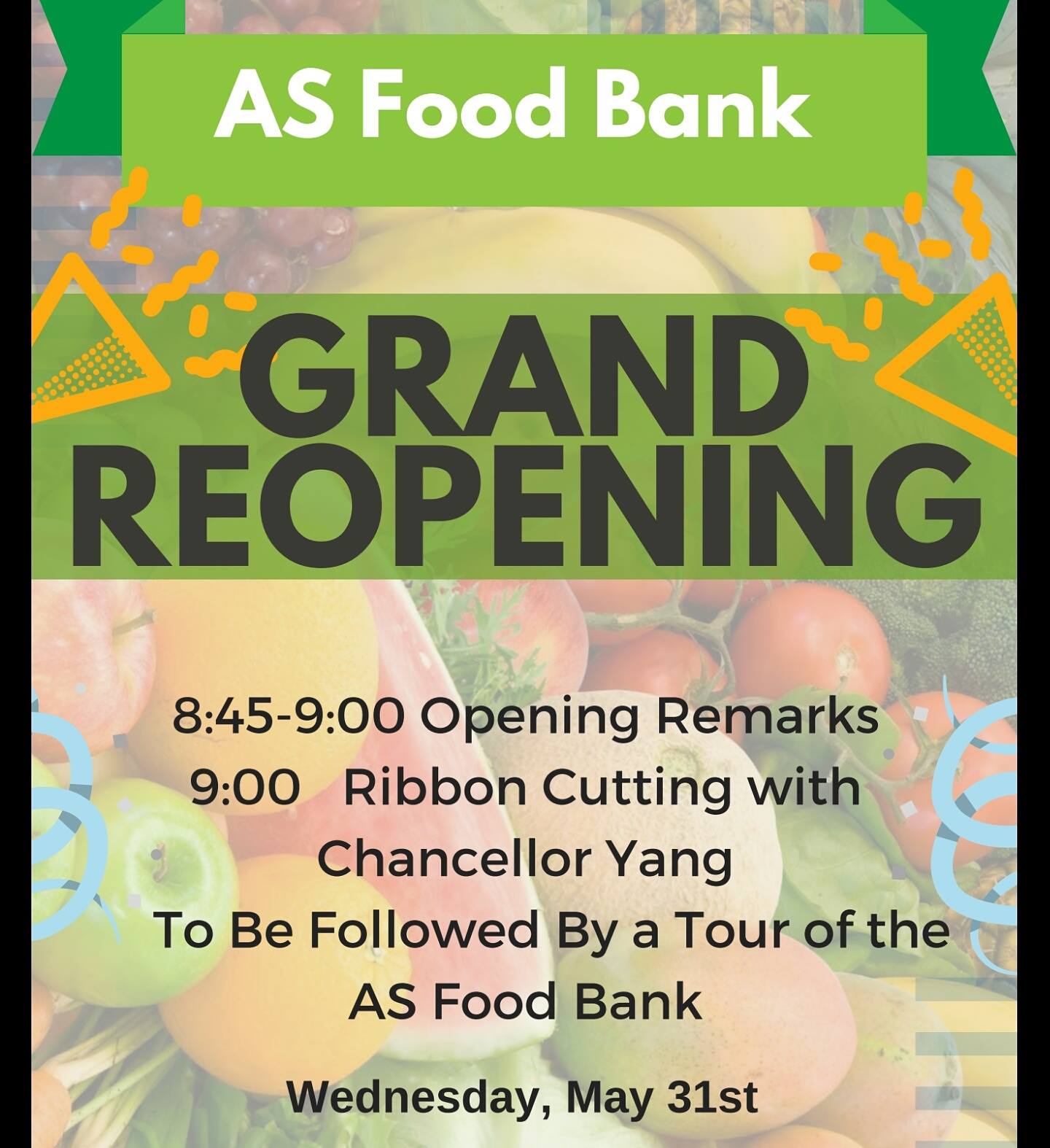 During spring quarter Food Bank moved to a new, larger space in the UCen. Still on the 3rd floor, they now have more space for food, refrigeration units, and students to pick up what they need. This is all great news, though it also bespeaks the very real needs of students here at UCSB.
The Grand Opening was on May 31st and Chancellor Yang was present for the ribbon cutting.
FOOD BANK AND FINALS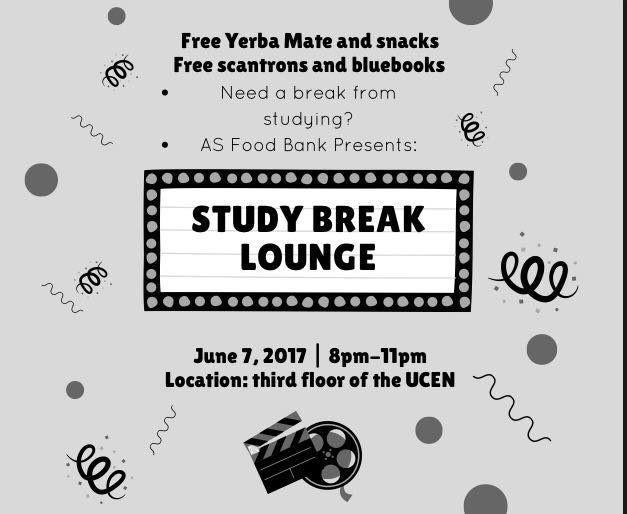 Food Bank ended the year by hosting a study break in their new lounge space and offering healthy foods for students studying for finals. A perfect ending to a very productive year celebrated in their grand new space! Bon appetite!